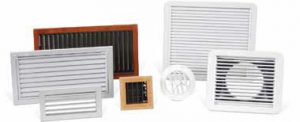 Grilles, Duct, & Transition Boxes to Complete the A/C System
Supply and return air grilles are available in several wood types, painted aluminum and plastic, and come in a
wide range of sizes and configurations
Description
Marine Air and Cruisair offer supply and return air grilles in a wide assortment of dimensions, styles, and materials to complement any yacht's interior. Custom sizes, materials, and colors are available.
The louvres of supply air grilles are secured by nylon bushings for easy and dependable positioning. Return air grilles have fixed louvres. Wood return air grilles have a lint screen which can be removed for cleaning.
Round plastic supply air grilles are offered in several colors and are available with and without shut-off dampers.
Marine Air and Cruisair also offer additional air distribution components, such as duct and transition boxes, to complete the boat air conditioning system. There are two types of duct available: round/wire with woven fabric and round/wire and mylar fabric shell with 1.0 in. (25 mm) thick insulation. A full range of diameters and lengths are availble, and all duct attaches easily to duct rings, grilles, and transition boxes.
Transition boxes come in two styles: Fully-insulated aluminum construction and vacuum-formed ABS plastic. Aluminum boxes come in standard and custom sizes and are ideal for applications where space is limited. ABS boxes are off the shell and feature insulated mounting pads and a unique stepped-ring design for flexibility.

Flexible duct is available in a wide range of diameters and lengths.

Vacuum-formed ABS transition boxes have insulated mounting pads and a stepped duct ring design.

Aluminum transition boxes are available in standard and custom sizes and configurations.
Key Benefits
Supply and return air grilles available in aluminum, plastic, and wood construction in a wide range of sizes and configurations
Grilles are available in custom finishes, colors, and sizes
Wood return air grilles have pop-out louvres and easy-to-clean filters
Wood supply air grilles have doubledeflection, moveable louvres available in anodized bronze or aluminum finish
Aluminum return air grilles have durable fixed-vane louvres and are available with or without filters
Aluminum supply air griles have adjustable louvres to direct air flow
Durable polyurethane paint finishes available with aluminum grilles
Transition boxes available in aluminum or vacuum-formed ABS plastic construction and do not restrict airflow
Aluminum t-boxes are full insulated and ideal for applications where space is limited; standard and custom sizes
ABS t-boxes have insulated mounting pads and a unique stepped ring design for flexibility