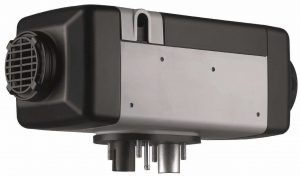 Air Top Series
Description
Webasto air heating systems are the ultimate choice when it comes to heating your leisure vehicle's interiors efficiently and economically.
The light weight and compact air heaters are easy and quick to install and can be used even whilst driving ensuring that you and your passengers arrive at your destination in a pre-warmed vehicle.
They quickly heat the interior up to the temperature you require, quietly ensuring that you enjoy constant, cozy warmth on board, where ever you chose to rest.
The Air Top range of heaters are cost efficient as they have low power and fuel consumption and operate independently to heat up the interior without having to have the engine running.

Advantages
High comfort due to the very quiet operation and step-less power control
Easy Installation in virtually all vehicles due to compact dimensions
No engine idling
Can be used whilst driving
User-friendly operation
Powerful with short heat up times
Dehumidifies interior when in fresh air mode
Proven technology – top quality and reliability
Low fuel and power consumption
Fuel supplied from vehicle's own tank
Optional fuel tank available for caravans
In-Built Diagnostic capability as standard on both controls