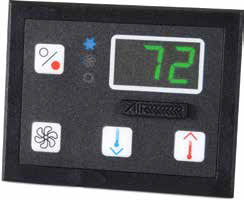 With Passport I/O Microprocessor Control System
Description
The Compact Passport display is an easy-to-use wall-mountable unit available in black or white. The display has an integrated bezel. The display works with Marine Air's Passport I/O microprocessor-based control system to provide precise control and monitoring of direct expansion and chilled water boat air conditioning systems. Passport I/O is dual voltage, operating at both 115 and 230 volts, 50 or 60 Hz. In chilled water air handlers, the system is referred to as AH-Passport I/O.
The assembly has a ground shield to protect against static interference and RF noise. The circuit board is conformally coated to provide high resistance to external damage or corrosion.
A display cable with gold plated phone-type modular jacks connects the panel to the system controller. An optional air sensor cable is connected to the circuit board in the same manner. Nonvolatile memory stores all user-selectable parameters indefinitely during operation or any power failure situations.
Internal self-diagnostic programs provide complete electronic checks of all lights, sensors, keys and circuits. Fused circuits and M.O.V.s (metal oxide varistors) provide component and board protection.
The Passport I/O control meets or exceeds applicable ABYC, U.S. Coast Guard Regulations and CE Directives.

Key Benefits
Automatic humidity control reduces moisture when the boat is unattended
Cool-only, heat-only, dehumidy, and automatic mode selection
New optional electric-heat relay
Automatic or manual fan-speed selection
Cycle fan with compressor or continuous fan operation
Calibration of fan-speed settings and temp display for precise control
Controls shaded pole and split capacitor fan motors
Compressor fail-safe protection
Programmable de-icing cycle
Built-in air sensor
Optional remote air sensor
Dimmable display
Low voltage for optimum safety