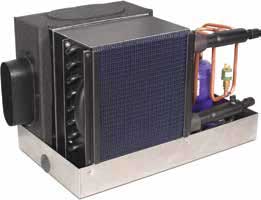 DC-Powered Air Conditioning With Progressive Low Starting Surge
Description
Designed for small cabins, Dometic's Cuddy II 12V DC-powered air conditioner is a self-contained, water-cooled unit for boats cruising in either freshwater or saltwater. The unit draws power gently at startup for a progressive low starting surge.
The Cuddy II is ideal for sailboats and powerboats, and can be operated directly from batteries or used dockside with a suitable battery charger. It provides 3,500 BTUs of cooling capacity and draws only 30 amps (without circulating pump).
Built for dependability, the Cuddy II has a stainless steel base pan that is insulated to prevent sweating and minimize movement and sound. The evaporator coil of lanced aluminum fins and rifled copper tubing is dipped in a protective polyester enamel. The compact motorized impeller moves air quietly and efficiently through ductwork and grille.
Protective features include independent locked-rotor protection on compressor and air mover. Under voltage protection shuts down compressor and air mover if voltage is less than 10.5V. The compressor and air mover have separate over-current protection, with a 45-amp limit on the compressor and a 27-amp limit on the air mover. The Cuddy II has thermal protection and polarity protection.
Installation is easy with a readily accessible terminal strip for both the 12V DC power input and the thermostat wiring. There are condensate connections on 3 sides of the base pan, and hold-down clamps are included. The Cuddy II uses environmentally friendly R-134a refrigerant, and comes factory charged, wired, and tested. To conserve space, the control box is mounted remotely from the air conditioner on a 4.5 ft (137 cm) heavy-duty cable.

Key Benefits
Ideal for small cabins, sailboats, and powerboats
12V DC-powered air conditioning system
Provides 3,500 BTUs of cooling power
Under voltage protection at 10.5V
Dependable and easy to install
Stainless-steel insulated base pan
High-performance evaporator coil
Locked-rotor protection
Over/under voltage protection
Thermal protection
Polarity protection
Factory charged, wired, and tested
Special Options
Wall-mounted thermostat
O-LED joystick digital control thermostat
DC water pump
Plumbing fittings
Grilles, transitions, and other duct materials