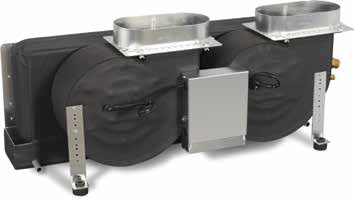 Dual-Blower Units for Height Restrictive Spaces
Description
Cruisair's EBLE low profile, dual-blower series of ductable cooling/heating units are available in a wide range of capacities and configurations. Available in capacities from 12K to 36K BTU/hr., EBLE units are designed for installations where there is limited vertical space, such as beneath a seat or bunk, or in overhead spaces.
Standard EBLE units consist of a low-profile evaporator coil mounted on a deep condensate pan, with two high-efficiency permanent split capacitor (PSC) blowers drawing air across the coil. Refrigerant line connections and a metering device are also included. Refrigerant connections are male flare fittings.
The variable-speed blower motor is internal to the blower wheel, which results in less noise and reduced unit depth for easier installation.
The drain pan, blower housing and all transitional metal surfaces are covered with insulating foam to prevent secondary condensation and reduce noise. The drain pan is lined with anti-slosh, antifungal foam, and the blowers can be rotated for discharge in different directions.
EBLEP models are designed for overhead installations, and include an insulated return-air plenum to collect air from a ceiling mounted grille.
EHBLE units have integrated electric heat strips to provide heat when the seawater is too cold for adequate reverse-cycle heating. All Cruisair auxiliary heaters use a two-stage thermal protection system to prevent dangerous overheating in case airflow is lost. The first cutout is an automatic reset switch, and the second stage is a manual reset control. Other safety features include hightemperature insulation on the interior surfaces and high temperature wiring.


Units are available with return-air plenum for overhead applications (EBLEP models).

Key Benefits
Low-profile, dual-blower ductable cooling/heating units
Environmentally safe R-410A refrigerant
Variable-speed, high-efficiency PSC blowers are rotatable
Drain pan has anti-slosh, anti-fungal foam lining
Exposed sheet metal is insulated against secondary condensation
Available with electric heat (EHBLE models)
Units are available with return-air plenum for overhead applications (EBLEP models).
Models with return-air plenum also available with electric heat (EHBLEP models)
Thermal expansion valve for optimal performance over a range of conditions