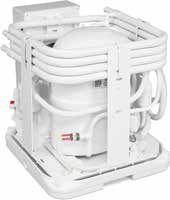 Innovative Chassis Conquers Installation Challenges
Description
After listening to boat builders, global service teams and boat owners, Dometic engineers designed the innovative Emerald Condenser series to harness and maximize the impressive performance of R-410A refrigerant while meeting all international clean air standards.
The compact design of the Emerald series incorporates built-in vibration-isolating mounts, two large drain connections and numerous mounting options for installation to a smooth deck, stringer or existing rack. The incorporated lifting handles and smooth bottom allows for easy lifting and quick placement of the unit.The molded composite no-rust drain pan is shaped to provide positive drainage even when the boat heaves and rolls. The amount of standing water in the drain pan is reduced by up to 85%, which is 8x times less than a typical drain pan.
Emerald condensers can be installed quickly and easily. The drain, seawater and refrigerant connections are conveniently located to conquer installation challenges thus reducing installation time by up to fifteen minutes. The electrical box can be easily removed and located up to 5 ft. (1.5 m) away, further reducing the size of the unit while making the system more accessible. The reversing valve, pressure switches and service ports are centrally located, high on the unit for access from any side.

Vibration-isolating compressor mounting system reduces noise and vibration.

The reversing valve, pressure switches, and service ports are centrally located for easy maintenance access from any side.
Key Benefits
Up to 85% reduction in standing water in the drain pan
Up to 15 minutes faster to install
Square chassis for easy installation in tight spaces
Three mounting options adapt to installation environments
Rust-free composite drain pan
Reconfigurable chassis allows optimal drain connections
Compressor vibration-isolation mounts minimize noise and vibration
Built-in refrigerant line filter drier reduces installation time and protects the compressor from moisture and contaminants
Reversing valve, pressure switches, and service ports centrally located for easy maintenance access from any side
Engineered to maximize the performance of R-410A, an environmentally safe refrigerant
Special Options
Wall-mounted thermostat
O-LED joystick digital control thermostat
DC water pump
Plumbing fittings
Grilles, transitions, and other duct materials