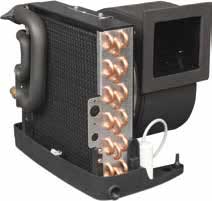 Reduced Size, Noise & Power Draw
Description
The Emerald TurboVap series of split-gas evaporators for boats incorporates revolutionary design features with mechanical engineering that maximizes the effectiveness of R-410A, an environmentally safe refrigerant.
Emerald TurboVaps are easy to install. For ideal positioning, the high-velocity blower can rotate up to 270 degrees with a single adjustment screw. The enclosed motor means no blower-motor overhang for a compact design.
Since evaporators are usually positioned in or near cabins, noise is always a concern. The Emerald TurboVap uses a vibration-isolation mounting system to minimize noise, so the evaporator runs more quietly. The fully insulated, high-velocity blowers are quiet and efficient.
Excellent condensate drainage is achieved with a unique positive-flow, anti-slosh, composite drain pan that is rust-free. Condensate water is rapidly removed at one of two easy-to-plumb drain locations.
The Emerald TurboVap Series was designed to operate as a system with the Emerald Condenser Series. Both of these split-system components were engineered to harness and maximize the superior thermodynamic properties of the environmentally safe R-410A refrigerant.
The Emerald TurboVap is available in six capacities ranging from 4,000 to 16,000 BTU/hr.

The rust-free composite drain pan reduces standing water up to 85%, thanks to "positive-flow" drain channels. These channels also help prevent spilling and sloshing in rough seas.

Optional lineset extentions for discharge and suction are available for all TurboVap models.
Key Benefits
Up to 28% reduced amperage
Up to 85% reduction in standing water in the drain pan
Up to 14% increase in cooling capacity
Up to 15% lighter
Up to 17% reduction in height
Up to 19% increased air flow CFM
Rust-free composite drain pan
Drain pan features anti-slosh, "positiveflow" drain channels for no spills and rapid removal of condensate
Up to 15 minutes faster to install
Single adjustment screw for 270° of blower rotation
High-velocity (HV) fully-insulated blowers are rotatable
Vibration-isolation mounts reduce noise and vibration
115V and 230V models
Designed to be used with Emerald Series (R-410A) condensers