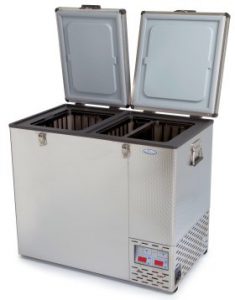 110 Litre Double Door Refrigerator
Features two 55-litre bins – each with a separate lid and a separate digital thermostat.
Can be used as freezer/fridge combo, both bins as fridges, or both freezers (left-hand bin must be freezer when used as fridge/freezer combo).
Same base dimensions as the 72 Double Door but 170mm taller.

Specifications
Dimensions
495(w) x 835(l) x 705mm(h)
(1150mm with lids raised)
Weight
Stainless Steel 44kg
Actual Volume
R/H bin (fridge or freezer) 53.5 litres
L/H bin (fridge or deep freeze) 54.6 litres
Baskets
8 ABS plastic baskets
Min. Temp.
@ 43ºC ambient R/H bin -12ºC
L/H bin -18ºC
Power Source
12/24v DC 240v AC
Power Draw
@ 12v +/- 2.5 amps average running current
24hr total 40 amp/hr – avg. power draw with typical fridge/
freezer temperatures in 32ºC ambient at low speed.

Power consumption may vary with ambient temperature, thermostat settings
and frequency of use. Consumption will increase in high-speed or turbo mode.