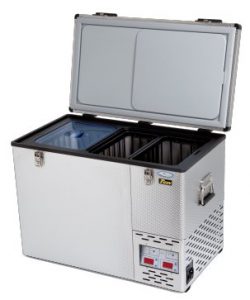 60 Litre Twin Refrigerator
Dual thermostat versatility in a popular size. Each bin has a separate thermostat so they can be set as fridge and freezer, both freezer bins, or both fridge bins.
Thicker (60mm) insulation in the deep freeze bin ensures maximum efficiency, while the fridge bin optimises storage.

Specifications
Dimensions
425(w) x 750(l) x 535mm(h)
(913mm with lid raised)
Weight
Aluminium 23.7kg
Stainless Steel 28.2kg
Actual Volume
L/H bin (fridge or deep freeze) 24.2 litres
R/H bin (fridge or freezer) 34.9 litres
Baskets
5 ABS plastic baskets
Min. Temp.
@ 43ºC ambient R/H bin -12ºC
L/H bin -18ºC
Power Source
12/24v DC 240v AC
Power Draw
@ 12v +/- 2.5 amps average running current
Average @ -10ºC cabinet / 32ºC ambient 2.64 amp/hr
24hr total @ -10ºC cabinet / 21-43ºC ambient 34.43 amp/hr