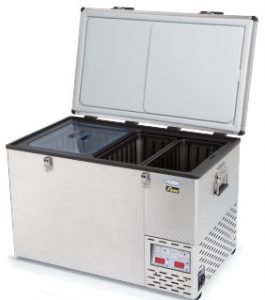 90 Litre Twin Compartment
The perfect 'combo' with a 50-litre fridge and 40-litre freezer bins. Separate digital thermostat allow bins to be set as fridge and freezer, both freezers, or both fridges.
Thicker (60mm) insulation in the deep freeze bin ensures maximum efficiency, while the fridge bin optimises storage.

Specifications
Dimensions
495(w) x 835(l) x 535mm(h)
(980mm with lid raised)
Weight
Aluminium 33kg
Stainless Steel 36kg
Actual Volume
R/H bin (fridge or freezer) 46.2 litres
L/H bin (fridge or deep freeze) 39.1 litres
Baskets
5 ABS plastic baskets
Min. Temp.
@ 43ºC ambient R/H bin -12ºC
L/H bin -18ºC
Power Source
12/24v DC 240v AC
Power Draw
@ 12v +/- 2.5 amps average running current
24hr total 40 amp/hr – avg. power draw with typical fridge/
freezer temperatures in 32ºC ambient at low speed.

Power consumption may vary with ambient temperature, thermostat settings
and frequency of use. Consumption will increase in high-speed or turbo mode.