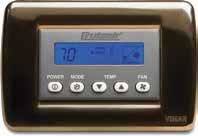 Cabin Control for DX & Tempered Water Systems
Description
The SMXht is a digital keypad/display that is used with Cruisair's SMX II-HV power/logic controller board. The SMXht can be used with both DX evaporating units and tempered water air handlers. It can be retrofitted to SMXII-type systems in the field. The SMXht is dual voltage (115 and 230V) and operates at 50 or 60Hz. It functions identically to the Cruisair SMXir keypad/display but is easier to program and operate.
A complete climate control system consists of the SMXht keypad/display, SMX II-HV power/logic board, CXP cable and a TSEP temperature sensor.
The SMXht is available in gray or white and has a sleek, modern European design. Two popular decorative snap-on bezels, Vimar® Idea or Gewiss® Playbus, are available (sold separately). The Gewiss bezel snaps directly onto the display; the Vimar bezel requires the use of two "wings" (included) to snap onto the display. The keypad/display features raised buttons and a blue backlit LCD. The LCD has three levels of brightness or a programmable sleep mode in which the display is darkened automatically. With these new features, programming and operation is simple and easy. Installation is also uncomplicated; see the back of this sheet for a detailed diagram.
Normal operation consists of simply turning the system on by pressing the Power button and adjusting the desired cabin temperature set point. Fan speed can be controlled automatically or manually. Operation modes are cool, heat, auto switchover (automatically switches from cool to heat Mode), and dehumidification. Dehumidification can be used to operate the system on a timed basis so that the boat will stay ventilated and dry even when no one is aboard. Aux (electric) heat mode is available for tempered water systems.
The SMXht will display a fault code in the event of a line voltage or refrigerant low or high pressure problem.
Many of the factory settings can be changed to allow the user to fine-tune the system to best match the boat and personal preferences.. A nonvolatile memory retains current operation mode and all programmable settings when power is turned off or lost, such as when changing from generator to dock power. The programmable compressor time delay function will prevent multiple units from starting at the same time when power is restored.

Key Benefits
Attractive, modern styling.
Accommodates Vimar Idea and Gewiss Playbus decorative bezels.
Backlight and sleep modes.
Automatic dehumidification.
Supports auxiliary heat for tempered water systems.
Complete system monitoring.
Pressure switch testing.
Low-voltage protection.