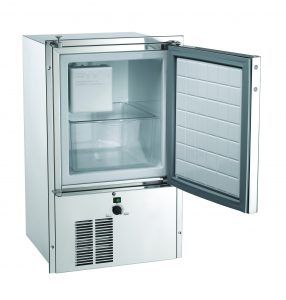 Classic Ice Maker that is plumbed to the Vessel or RVs fresh water system. Constructed from Marine Grade 316 Stainless Steel.
Key Features
Internal compressor
Can produce 7kg of ice in 24 hours
Connects to plumbing system
Stainless steel finish with flush mounted frame
240 volt
24L Capacity
Cooling unit is vented through the front of the Icemaker
Door can be mounted left or right and has magnetic closure.
Dual function thermostat ice production/ice maintenance
Specifications
Length 404mm, Height 628mm, Depth 370mm
Ice production: 11kg/24 hrs; 6kg ice storage
Weight 28kg
Power Voltage 240V
Current Consumption 140W
Options
This model also available in 110 volt, on request.