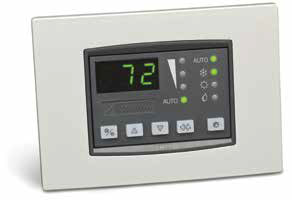 With Passport I/O Microprocessor Control System
Elite keypad/display shown with Vimar® Eikon bezel (sold separately)
Description
The Elite™ display provides easy-to-use climate control in an attractive, modern package. It works with Marine Air's Passport I/O microprocessor-based system for the precise control and monitoring of marine air conditioning systems. Passport I/O operates at 115 or 230 volts, each operable at 50 or 60 cycles.
The Elite display features raised buttons for easy access and control. The Mode button is used to scroll through the four modes of operation, simplifying programming. Decorative snap-on Vimar® bezels (sold separately) are available in a variety of colors and materials to match your vessel's interior.
Passport I/O is flash programmable, which allows for future software upgrades without the need to replace the circuit board. A ground shield protects against static interference and RF noise, and the circuit board is conformally coated to provide high resistance to external damage or corrosion. A display cable with modular jacks connects the panel to the system controller. Non-volatile memory stores all user-selectable parameters indefinitely during operation and through any power-failure situations.
The Passport I/O circuit board utilizes state-of-the art SMT technology and has an optional integrated CAN-bus network adapter that provides ship-wide network monitoring of multiple DX systems and air handlers. The adapter adheres to CAN-bus Standard 2.0B and is fully ISO compliant. It is available in two high-level CAN-bus communication protocols to support connection to several popular helm and cabin touchscreen control systems.

Elite keypad/display shown with Vimar® Idea bezel in gold (sold separately).

Key Benefits
Automatic humidity control reduces moisture when the boat is unattended
Cool-only, heat-only, dehumidy, and automatic mode selection
New optional electric-heat relay
Optional CAN bus adapter puts cabin control on the ship-wide network
Displays Fahrenheit and Celsius
Automatic or manual fan-speed selection
Cycle fan with compressor or continuous fan operation
Cycle pump with compressor or continuous pump operation
Compressor time delay staging for multiple unit applications
Dimmable display
Controls shaded pole and split capacitor fan motors
Compressor fail-safe protection
Programmable de-icing cycle
Built-in air sensor
Optional remote air sensor
Available with popular Vimar bezels, including the Eikon (sold separately)