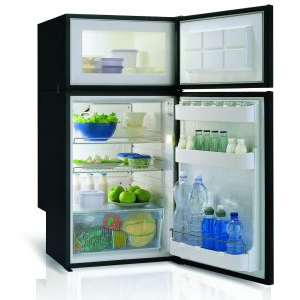 Let's sound out a unique range of portable cooling appliances. Built especially for yachts and recreational vehicles, Vitrifrigo refrigerators and freezers have their own dedicated home in the CoolFactor catalogue. Straight away, you get a crick in your neck as your head swings involuntarily to inspect the stainless steel cabinetry. Bold design elements accent each unit. Is your curiosity piqued? Come on, let's delve deep into the Vitrfrigo line.
Your Rugged Cooling Appliance Solution 
Again, take stock of the occasion. Stop, pull back a little, and gaze at the durable stainless steel housing. It exudes polished metallic strength. Sure, you're careful when you move around the confined areas in your motorhome, but the occasional impact is unavoidable. Vitrifrigo refrigerators and freezers don't mind an accidental scrape. They just shrug off the daily bumps and knocks encountered in a travelling home, so their factory-finished good looks will endure.
Built for Marine Voyages 
The briny air is seeping into the cabin of your yacht. It's a bracing aroma, a salty tang that catches on your tongue. Unfortunately, metal appliances don't enjoy the sea air. They corrode and deform until an ugly orange tinge cracks the seam of the once elegant housing. Stainless steel materials are corrosion resistant by design, which means every member of this elite cooling equipment range will maintain its like-new outer skin, no matter how salty and wet the environment becomes while you're sailing the waves.
They Fit Like a Glove 
Four-tier refrigerators open to reveal 157-litre interiors. Multi-capacity two drawer models offer 80-litres on the top, 64-litres on the level below, and they're equipped with reliable refrigerating power, courtesy of an integrated compressor system. Meanwhile, over in the freezer section of the shop floor, insulated doors act as a toughened refrigerator doorway. As for the freezer component in this appliance lineup, chilled drawers or doors serve as a subzero confinement zone. Enclosed in this stylish, hybrid door/drawer configuration, the flush-mounted unit only requires a 12-Volt/ 24-Volt power supply to keep your food and beverages fresh.
What kind of portable cooling equipment rolls off an assembly line when a factory is outfitted with a 5-axis machining centre? For an answer to that question, check out the Vitrifrigo refrigerators and freezers that are hosted by the finest yachts and motorhomes on the market. If you wish to emulate that single element, one that's become an integral part of the higher-echelon mobile/marine sector, consider purchasing your own Vitrifrigo appliance. The appliance catalogue resides within the CoolFactor product catalogue, so try comparing one of these units to its nearest competitor.